We offer a Lifetime Warranty with every repair and that works with deductibles!
Auto Body Shop in Burlington, ND
Since 2012, Collision Solutions has been performing top-notch and affordable repair options for your damaged or dinged-up vehicle. We are proud to be a locally owned and operated business in Burlington, ND, and to provide an exceptional customer service experience.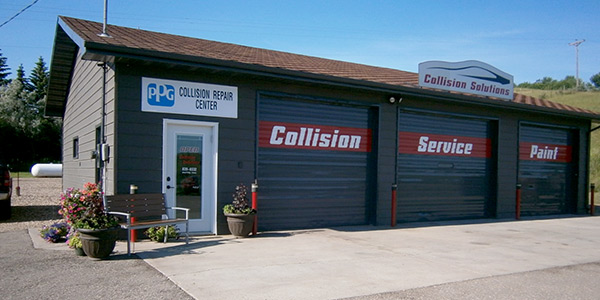 Your Local Collision Center & Auto Paint Shop
Are you looking for a reliable, experienced and reasonably priced collision center in Burlington, Des Lacs, Ruthville, Surrey, or Minot, ND? If so, then you need look no further than Collision Solutions. Since opening in 2012, our team of certified technicians has built a strong reputation for both solid work and friendly service. As one of the few locally owned and operated auto paint shops, we do not just treat our customers as a number or a job to be dealt with—instead, we treat them with the same respect and goodwill we use with our own family members. If that level of care is important to you, we hope you will come visit us soon.
Here at Collision Solutions, our team of highly skilled technicians has over 20 years of experience in performing the practical and enduring repairs you need to get back on the road quickly and safely. We specialize in a variety of services, including auto collision repair, auto body repair, auto glass replacement, windshield repair, auto body paint, frame straightening and so much more. We also proudly offer a lifetime guarantee on all of our work and are Paint Performance Guarantee (PPG) certified, so contact us today. Here are just a few reasons why you can feel confident about choosing Collision Solutions to be one of your auto body shops of choice:
We are a proud locally owned and operated auto body shop in Burlington, ND.
We perform a wide range of enduring and dependable repair services.
Our team is fully Paint Performance Guarantee certified.
We offer a Lifetime Warranty with every repair we perform.
We keep our prices competitive, and area always happy to work with insurance deductibles.
---
---
Areas Served
A collision center and auto body shop serving the following areas:
Carpio, ND
Berthold, ND
Burlington, ND
Kenmare, ND
Voltaire, ND
South Prairie, ND
Hesnault, ND
Logan, ND
Norwich, ND
Ruthville, ND
Deering, ND
Des Lacs, ND
Lonetree, ND
Foxholm, ND
Max, ND
Douglas, ND
Palermo, ND
Blaisdell, ND
Tagus, ND
Hartland, ND
Donnybrook, ND
Coulee, ND
Ward County, ND
Renville County, ND
Mountrail County, ND
McHenry County, ND
McLean County, ND
Burke County, ND
Minot, ND
Sawyer, ND
Surrey, ND
Velva, ND